SalesforceServicesHealth Check
Salesforce is constantly evolving, and it can be challenging to maintain a healthy organisation. We really do understand that your organisation is continuously developing and integrating apps. Thus, its security might be affected. Salesforce offers a standard dashboard with recommended settings to provide high security for your organisation. Still, security can be lacking with continuous changes to a Salesforce Org.

We wouldn't want to lack security now, would we? Time to make you as secure as humanly possible with a Security Health Check.

Did you know that according to Salesforce, customers who complete a Health Check see instantly a 25% increase in user adoption and a 20% increase in productivity?

With the flexibility that comes with Health Checks, you're only being responsible. Not to mention that an 'Org Health Check' could mean completely different things, depending on the people you ask. To combat this, we hope this article will provide the relevant information needed so you can make an informed decision on if your organisation needs one.

You do want to be ensuring your getting a return on your Salesforce investment, after all.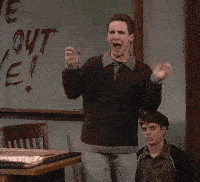 And yes, now is not the time to run around screaming.
​

"A Health Check can help identify areas of improvement in your Salesforce environment that will make your team both more efficient and productive."





David Giller - Salesforce Certified Instructor​
Not to mention that a lot of custom applications are bespoke to your business as well, so they could have more issues compared to an existing app. 

A critical Health Check will allow you to understand your organisation's Salesforce security settings and where they should be for effectiveness.
According to ApexHour, you should be doing a health check at least once yearly on your organisation. They mentioned that many organisations lose the opportunity to gain significant value from their Salesforce apps by not undergoing a Salesforce Health Check.  


Some best practices need to be followed to ensure the healthiness of your organisation, such as breaking down your Salesforce Organisation for adjustments and improvements in specific applications and even carrying out some alterations.  

[Source - NextWork - YouTube]

So, why should you consider a Salesforce Health Check? Let's get into it.
Why Are Health Check Best Practices So Essential to Your Business?
---
You want the best of the best, right?

First, we need to recognise the signs of an unhealthy organisation. You might be experiencing a lot of random errors as well as struggling with storage. Having non-active users on the implementations and ensuring they are set up correctly is vital for optimal use.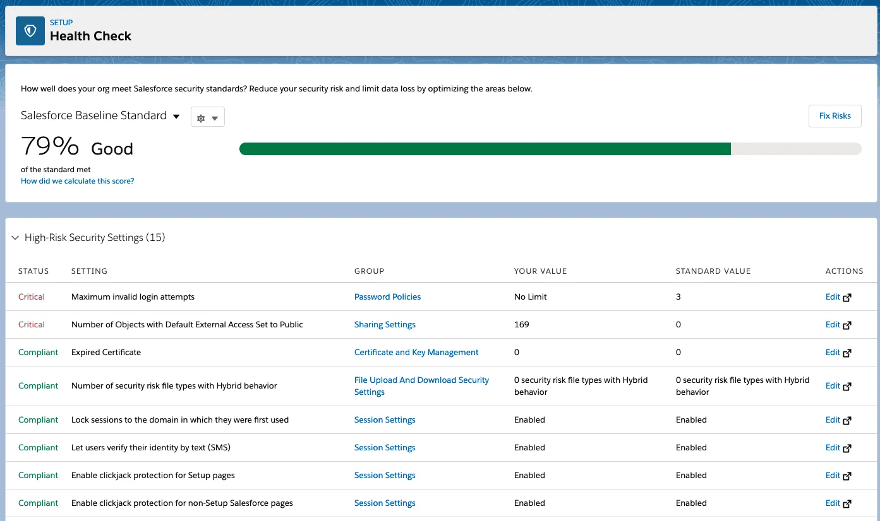 [Source - Trailhead]
Here is an example of a good check that has been completed but could do with some improvements.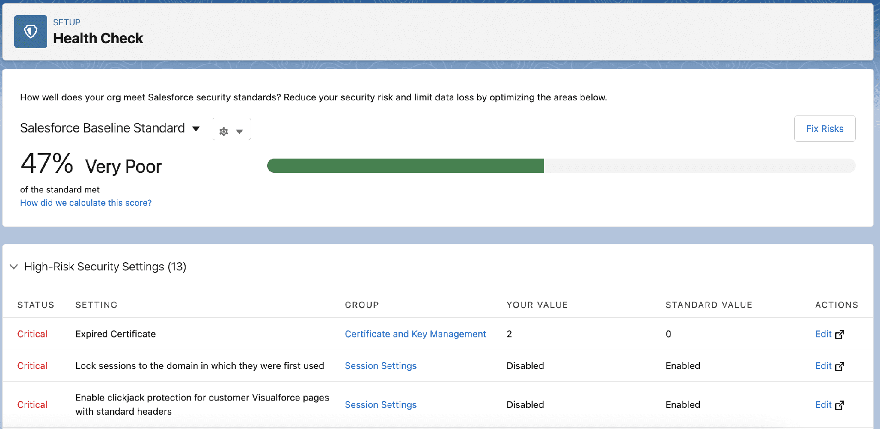 And here is an example of a bad check. Some critical improvements are to be made there...

Being a Salesforce expert agency for over a decade, we know how difficult it can be as an organisation to maintain a healthy org every day when processes are being implemented, important users are asking for changes, all while you are trying to organise a team to report back on your ROI.

When did you last think, 'How is my org actually doing?'. A long time we bet.

You could potentially be:
A manager who has been using the same org for years
A new project manager, that has come into the organisation
A new user coming into a Salesforce org for the first time
A part of the sales-teams
A part of the customer service team
A part of the IT team
A 'Head of CRM' or 'CTO'
There has never been a more suitable time to do a health check. We often find, with teams, they do change personnel; your current Salesforce instance is often open to interpretation with multiple eyes and different visions coming into play.
These vulnerabilities must be tackled, which is why the team carrying out the Health Check you have requested must follow best practices. Carrying out regular Health Checks where the management system is configured appropriately, the restrictions for the integration are in place and ensuring the business units are set up correctly.
Remember, documentation is absolutely critical for a successful Salesforce org, across all factors and features.

Not to mention, if you might believe it, a Health Check can be performed incorrectly. It's super important to then ensure that you have a certified person / partner completing it.

Look at that; you have come to a Partner​ that can help, and you are on the first path to safety.

Once you Book a Salesforce Health Check with a third party, such as Gravitai, we start by asking you further questions about your Salesforce Implementation. The questionnaire provides us with the information needed to perform a thorough health check.  

Our Salesforce Experts then look over your Salesforce Org with a fine tooth comb. No stone is left unturned, especially when security comes into play with your organisation.
What Is a Salesforce Health Check
---
As any Salesforce admin within a given business, you can complete a Salesforce Health Check to then look at all the vulnerabilities within your Salesforce org and your security settings.
You will be provided with a summary score as well, measured on a baseline standard, so you can ensure that your org is up to best practices.


So, how is a Salesforce Health Check broken down?

How Is The Health Check Score Calculated?
---
It's a great question, one of the most important, actually.

As we previously stated, the score is calculated by looking at your security settings to match the baseline. This includes settings that both exceed compliance which will raise your score and then further settings which could cause risk, reducing and limiting your score.

Four categories are then mentioned, looking at your score. High-Risk, Medium-Risk, Low-Risk & Informational.

Via this, you will be able to see a check bar to visualise your assessment. 


[Source - Salesforce]
Here you can see the progress bar based on the standard or baseline that has been set. To give you more insight, you can have a look at the scores below.
[Source - Fivestar Development]
Your grade based on your score:
90% And Above = Excellent
80% - 89% = Very Good
70% - 79% = Good
55% - 69% = Poor
54% And Below = Very Poor
The main purpose of a Health Check is to check for the following:
Benchmark your org and monitor progress and success
Acknowledge any bottlenecks that may hinder your Salesforce org
Increase user adoption across your Salesforce org
Keep your security threats limited and free to ensure safety
System configuration, such as settings and customisations
We won't go too much into the settings now. Book a Salesforce Health Check to find out more. If you want to learn more about Health Check settings, however, you can find them here.
How Is a Health Check Conducted?
---
It's a crucial question and one that we will answer. Processes will differ from one company to the next, but here at Gravitai, we like to do things correctly, we know how to run a health check in Salesforce.  
"A Health Check is critical in this day and age. It's the difference between you losing thousands and saving time and valuable resources. We have performed several health checks across the Salesforce stack now through further recommendations and improvements.





The clients we have helped have seen a drastic increase in ROI and resolving underlining issues, which have been there for days, months or even, in some cases, years." 



Jide Azeez - Head of Services at Gravitai
We look over everything in fine detail; here is the list of items we will check before providing you with your Salesforce Org Assessment Report. 

More on that later.

​Our view is that if you cut corners with a Health Check, you just ticked some boxes, or not thoroughly checked your org correctly, then more problems are going to crop up.
Account Area

Report Must Contain

Journeys

How many Journeys are Active Vs Draft?
Are there any further outdated Journeys that can be Archived or Deleted?
Do all marketing Journeys have Set Goals?


Automation & Integrations

How many Active Automations are running?
Do you know each Automation purpose?
What automations are Inactive or Paused?
Are there any common errors or recurring Query Failures across your stack?
Using Verification Activities?
Using Error Notifications?


Data Architecture

Are you using Contact Builder?
Are you using a typical common Contact Key?
Are you using Lists? How many Data Extensions?
Are there any Outdated Data Extensions?
What type of key Data are you storing?
Are you using possible Naming Conventions to organise?


Content

What usual marketing Content Blocks are you using?
Do your Content Blocks use a usual Programmatic Language within your stack?
Does anything seem even out of place or outdated?


Users And Setup

How many Active Users are in your account?
Is there anyone at all you do not recognise?
Should any user accounts that should be disabled?
What users have API Access?
How many Sender Accounts are set up in your account in your stack?
Have you set up Alert Manager to notify an email address of sending errors?


We know, right, and that's just the start. There are a lot of factors which need to be considered.
Discover, Analyse, Act & Avoid
---
No, this is not an alternative version to snog, marry, or avoid.

So how do we really process these steps, or how should any organisation process these steps, more importantly? Let's break it down into small bitesize bits for consumption.
Discover


You start by uncovering all of the configuration elements in your org, including a history of actions. This includes a full list of any elements and applications. Understand the historical usage of your org, how much you are getting out of it and who is using it.

You also need to understand how many licences are being used per department. Every penny matters, remember. You are here to check your org health but also to save costs.
Analyse


Next, you start to analyse your findings. This needs to be done in comparison with the best Salesforce and industry standards in mind. Configuration checks will need to be completed along with a review of your customisations if any have been made and are bespoke. You will need to also understand what apps have been installed. Start the decluttering process from within.

Act


Now is your time to act. You have your list of actionable items that need to be completed, and you can start cleaning and remediating your Salesforce org. This could include things such as security, fixing those vulnerabilities, data management, poor practices, GDPR, bad design, best practices or performance, to name but a few.
Avoid


Now there are some things you need to think about and avoid. Like we previously said. DO NOT cut corners. If you feel you can't complete the health check yourself, enlist support to help. We also do recommend that you complete a Health Check on a quarterly basis, but if this is unobtainable, then we suggest yearly as a minimum.
Account Management System (i.e. Multi Factor Authentication)
---
We look over the Account Management System to check that your accounts are secure; this can also include a single sign-on process via notification application. 
Configuration Setup (i.e. Roles & Users)
---
Making sure the configuration setup is running at the optimum level is paramount. We, therefore, look over your Salesforce Configuration Setup in fine detail; here is what we will look at: 
Inactive Users that are no longer a part of the organisation
Guarantee Best Practices of each user with their respective roles
Marketing Cloud Connector setup, visibility of Data and restrictions

[Source - Apex Hours]
Check how much access your portal users have to data.

With company users constantly using your org, it's important that the configuration is set up correctly. If you have not completed a health check in a long time, then it is even more important to check on the config to ensure that there is no malpractice.

Business Unit From Send Emails
---
Sendability will be thoroughly checked for the business configuration checks ensuring the correct sender profile / from name / from send. As well as the correct set-up / in-use (clean-up of BUs that have been created). It's always critical to check.
Ensure Transactional and Commercial email setups are aligned
The Footer Address / Header is correctly setup 
IP Reputation Report  
Sub-domain setup correctly
Super messages checks (limited)
And yes, as customers and clients sometimes ask, it is critical to go into this much depth.
Context And Templating
---
Context and templating are very important when managing Data. When you book a Health Check with Gravitai, we look at all the organisational structure, the master templating and anonymity, as well as email best practices.
Follow Best Practices with folder structure 
Naming Convention of folders
Prefixes with starting name 
Ensuring alignment of parallel environments 
Using 'All Shared Content' across BUs 

Folder backup, versioning control
Customer Key renamed 
Emails are placed in folders 
Provide skeleton templates for emails 
Access rights for master templates  

Your customers' data is so important. Remember.
Journey Builder
---
When utilising Journey Builder, you will be able to see the goals and journey population data for every journey, either completed or running. The journeys and workflow utilisation needs to be secure and healthy. 

The areas that will be looked at are:
Ensuring workflow is fit for purpose and utilised in the correct way
Checking for best practices of Journeys (i.e. avoiding two email attributes in the same Data Extension)
Data Extensions are being set up correctly along with the Data Model in the Contact Builder 
Filtering the right records to enter in the Journey
Usage of the right flow activity inside of a Journey 
Inactive / Active Journey Control, deprecate Journeys if no longer needed
Ensuring journey Reports are correctly aligned with Journey Data 
Flags of any potential users deemed to be inactive in a Journey, i.e. Blacklisted / Bounced
Take it from Astro himself. He loves Journeys.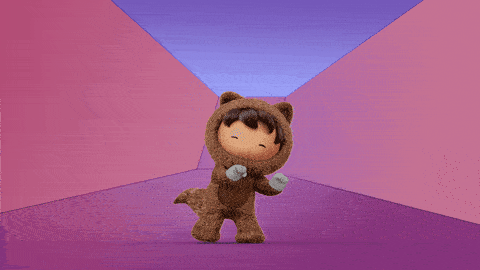 Don't have Journey Builder implemented yet, but you're curious? Let us know how we can help. We have a FREE consultation service set up to help, so you can take the next steps without charge.
Segmentation Audiences / Automation Studio
---
Checking automation and segmentation best practices are carried out, and the need for often monitoring, which includes. 
Ensuring all automation fails, that this is flagged to the correct email address to be addressed 
Creation of Dashboards along with CloudPages to monitor the major automation 
Staging tables to handle mass data
Automation is extremely critical in this day and age to ensure that your business is progressing forward.
Programming Languages Using Best Practice
---
Salesforce is a platform that allows for customisation and development through various programming languages such as Apex, Visualforce, and Lightning Web Components. It's essential to ensure that the code written in these programming languages is up-to-date and follows best practices.

Let's not take corners and complete an improper job now. 

Outdated or even poorly written code can actually lead to errors, security vulnerabilities, and performance issues, which can affect the system's overall health. 

The points looked at when implementing best practices are making correct use of data actions in automation (Append / Update / Override). We also ensure fallback content is in place and make sure the correct audience is being built and fit for purpose with data extension. 

Finally, we check INACTIVE or FAILED automation activity.

Data Modelling & Processing
---
Unsubscribe process best practice: Following the Salesforce best practices when it comes to unsubscribing a customer, we guarantee that we are capturing information about why this client is unsubscribing. While Making sure GDPR is being strictly followed at every touchpoint.   


Data modelling is the process of visualising all or a portion of a system to communicate links between structures and data points using elements, words, and symbols. Data modelling is an essential process that can help a company to maximise the value of its data assets.

Everyone wants accurate data, after all. 

By improving data accuracy, efficiency, and decision-making, data modelling can positively impact ROI, helping the company to achieve its business objectives more effectively. 

That is why it is essential to check that data is in place for journey source entry data and that all redundant attribute groups are cleaned up and validate data integrity.  


BOOK YOUR SALESFORCE HEALTH CHECK 
We are here to help and diagnose. Let's work together to get to the bottom of your Salesforce org issues directly to tackle them.




Data Management (FTP / Key Management)
---
Data management is crucial when performing a Salesforce Health Check because it ensures the accuracy, consistency, security, and accessibility of data in the Salesforce system. 

FTP (File Transfer Protocol) and Key Management are two big essential components of data management that play a critical role in maintaining data integrity and security.

Why is File Transfer Protocol important, I hear you say?

FTP has typically been the workhorse of file transfer protocols for decades and continues to be a critical tool for businesses of all sizes, no two ways about it."



Jason Bloomberg - President of Intellyx

When performing a Salesforce Health Check, it is essential to ensure that FTP and Key Management processes are in really place and functioning correctly. 

This helps to prevent data loss, unauthorised access, and data breaches, which can have serious consequences for an organisation, including financial losses and damage to reputation. 

Thus, we directly check FTP locations are working as expected; the key management system is in place.
Data Extensions Checks
---
When Gravitai performs a Health Check, the data is one of the main points to secure, so a data cleansing/data extension clean-up will be done; thus, an expert will check Salesforce for the following.
Data is not at capacity for a Data Extension to hold; retention period, if needed. 
Best practices have been carried out for active Data Extensions, i.e. Sendable / Testable.
A correct subscriber relationship is plausible for the purpose.
Active Journey entry source data correctly uses data extension with best practices of data types / primary keys across your selected Salesforce org.
Possibility of bad naming for data extensions being used in active Journeys or automation
As we previously said, and yes, we are going to say it again. TAKE CARE OF YOUR DATA. If you don't, you as a business or organisation are going to encounter some serious issues.
To add to this, in a very recent study conducted by a Salesforce Partner, 73% of companies that did not regularly perform a health check reported issues with data quality.



Bounce Management
---
Bounce management is also important. Effective bounce management then ensures that email lists are clean, accurate, and up-to-date, which is essential for maintaining high email deliverability rates. 

It also helps to prevent emails from being marked as spam, which can harm an organisation's reputation and email deliverability in the long run. It's something you should always consider.
How Does a Salesforce Health Check Report Help Your Business Directly?
---
A Salesforce Org Health Check Report has a Risk Rating that determines your organisation's health in each section examined. This ensures that every area been looked at and that you know where the issues lie.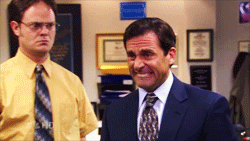 Don't worry; we will take care of the scary stuff.

The reports are created through a series of specific checks; this step is critical to breakdown the locations of your organisation and determining the level of risk in each area.
By performing a Health Check regularly, organisations can ensure that they are getting the most out of their Salesforce investment and maximising their ROI. Failing to perform a Salesforce Health Check regularly can lead to a variety of negative impacts on an organisation's ROI.


Without critical regular maintenance and optimisation, the Salesforce ecosystem can become slow and inefficient, also leading to decreased productivity and increased frustration among users. 

This can also lead to decreased user adoption and lower ROI on the investment made in Salesforce.​​ 

Failing to identify and address issues in the Salesforce ecosystem can lead to data quality problems, security vulnerabilities, and compliance issues. This is something you really want to avoid as a business.

This can result in data loss, security breaches, and legal penalties, Which can significantly impact an organisation's bottom line.



What Are The Benefits Of a Salesforce Health Check?
---
The ultimate question, really, ain't it? Here is how you can benefit from a health check at the helm of Gravitai, as well not to mention.
Optimised Org Performance
Better Security
Improved Practice Alignment
Customisation Review

Improved Data Quality
Greater ROI
Enhanced User Adoption
Increase Scalability

​When Gravitai performs a detailed and professional Salesforce Health Check, organisations can directly benefit from an independent, expert assessment of their Salesforce ecosystem. 

Gravitai can also thoroughly analyse any organisation's implementation, identify potential issues, and make recommendations for improvements.

We know, right? Pretty helpful.

We also can provide a fresh perspective and a depth of experience that may be lacking within the organisation. This can help uncover issues that may have been overlooked or identify new opportunities for optimisation and improvement.

Salesforce Health Check And Optimisation
---
Salesforce Health checks focus purely on your organisation's security. Still, there is also Salesforce Optimiser which takes care of the metadata and ways to improve the user interface. 

This is also very important. 

With Salesforce Optimiser, you can optimise features to make it easier for users to complete their tasks. You can obtain suggestions for cleaning up customisations, simplifying features, and promoting feature adoption.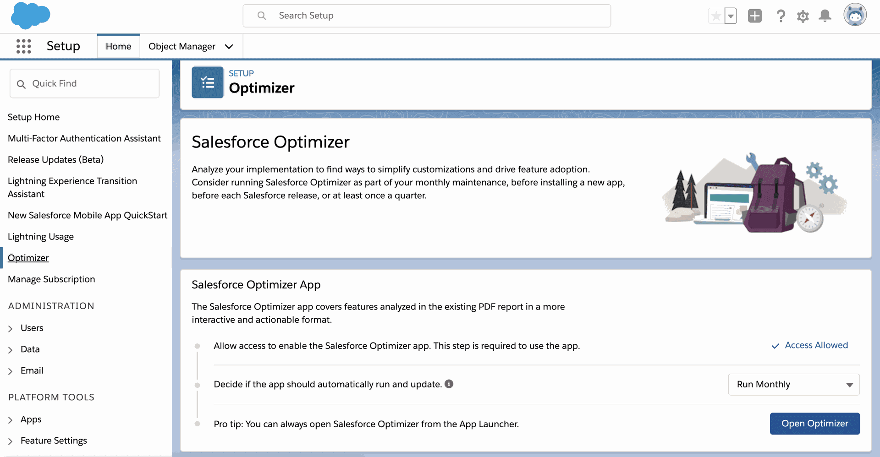 Is the Salesforce Optimiser something you would really consider using? It currently actually checks over 150 areas of your org for improvements! On average, clients find that they need 50 things to improve that are highlighted with either a High or Medium risk.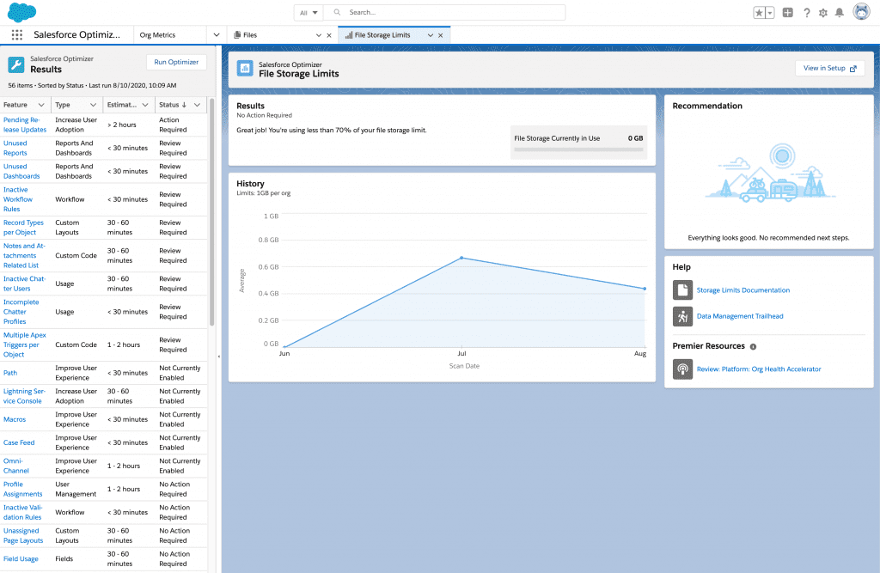 [Source - Salesforce Admins]
We really highly recommend this is a step which you can take quickly as an organisation.

As an important last step, if you are not relying on Gravitai to do the asking, we recommend that you take a look at your current Salesforce contracts and also your product usage. Critical factors which need to be considered.

Place yourself in an organisation. 

You could be a new admin or consultant in the business, even if you are a Salesforce-fledged veteran or a Salesforce Trailblazer newbie; take a look at the contract. Make yourself aware of the buying cycle, the products you are using and if they are being used.

You will be able to do this easily by clicking the top right gear icon and clicking 'Your Account' to find out more information on the matter.


INCREASE YOUR SALESFORCE ROI
Without rebuilding your system, let us directly help optimise your Salesforce platform to ensure you are getting the correct ROI.